Activities 2017-18
Monsoon Fun:
After scorching heat of summer, monsoon in India is welcomed by one and all. To make students aware about importance of monsoon, Pinnacle High International School celebrated 'Monsoon Fun Week' in the school. Documentaries on rainy creatures, colouring worksheet, creative writing worksheet and other activities were conducted.
As a part of monsoon fun, a tea-pakora party was planned for mothers who brought hot snacks like pakora, batatavada, corn chaat etc. to share with the students. This initiative was taken by the school to make our students aware of the importance of monsoon in our life and building vocabulary of the monsoon words. A gallery walk, rainy creatures, rhyme time, story time and some wonderful games were arranged for our students.
International Yoga Day celebration:
Pinnacle High International School celebrated International Yoga day on 21st June. Yoga promotes physical, mental and spiritual well being of an individual. Yoga enthusiasts all over the world celebrate this day with fervor. Hence, it is imperative that the school should try to inculcate importance of yoga in every child.
French national day celebration:
Yet again, Pinnacle High International School celebrates French National Day with great success. Pinnacle High International School, Malad(W) believes in promoting multilingualism as it is proved in the recent researches that it promotes better cognitive development. Hence, the students of Grade 5- Grade 8 celebrated French National Day by participating in various activities.
In France, French national Day is formally called La fête nationale and that is what was displayed on notice boards. The classrooms were decorated with French flags and balloons. The events were as follows: Grade 5 sang "Que sera sera" in French. This was the first time they sang a French song. Grade 6 and 7 set up a French canteen which had an array of French food starting from croissants, crêpes, tartes to crostinis, citron pressé and many more. Everyone had a gala time tasting French food items including teachers and other students. Also students experienced selling food and earning money for the first time. It was an unforgettable experience. Thereafter, grade 8 and 9 had brought products of French companies for example, a jersey of Paris Saint - Germain, a deodorant of UDV (Ulric De Varens), cosmetics of Lancôme and many more and spoke few lines about them in French. It was indeed a proud moment to see students trying to speak in French.
Students are always very excited and full of enthusiasm to celebrate this day every year in an innovative way. Along with the students who are participating in activities, other students also learn about French culture and are also influenced to learn this language in future.
Battle Sport Dance National Championship
Abeer Kumar-4 Gold
Dhrishti Raghani-3 Gold
Shayne Abraham-1 Gold
Punji Jain-4 Gold
Vrushti Jain-2 Gold
Hida Rawal-4 Gold
Prisha Sodawala-4 Gold
Deveshi Dubey-2 Gold
Kimaya Thenge-1 Gold
Rushank Jain-2 Gold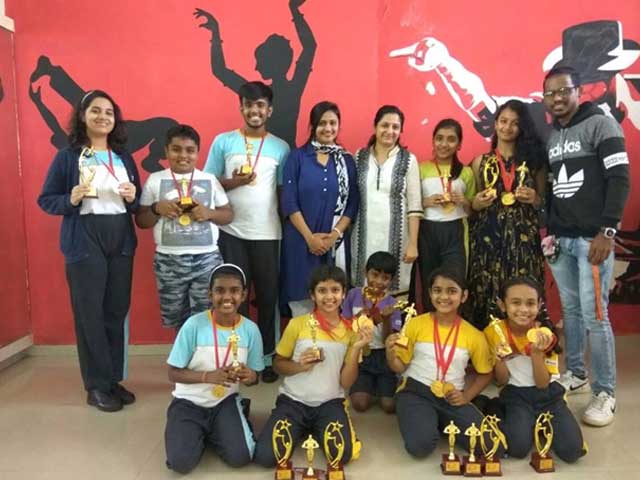 Dance on Skates' State Championship held at Pune
Kyle Menezes-1 Gold, 2 Silver
Jared Menezes-8 Gold
Darsh Salian-2 Gold, 2 Silver
Raqib Khan-3 Gold, 1 Silver
Abeer Kumar-2 Gold
Prabhuti Vira- 7 Gold, 1Silver
Dhruvi Vira-7 Gold, 1 Silver
Vihan Shah-5 Gold
Anaya Chaudhary-2 Gold, 1 Silver
Anush Iyer-6 Gold, 2 Silver
Varun Sheth-6 Gold
Student of the year' trophy from NIE, Times of India!
Ms. Sudhanshita Arora, Grade IG Sr for winning coveted 'Student of the year' trophy from NIE, Times of India!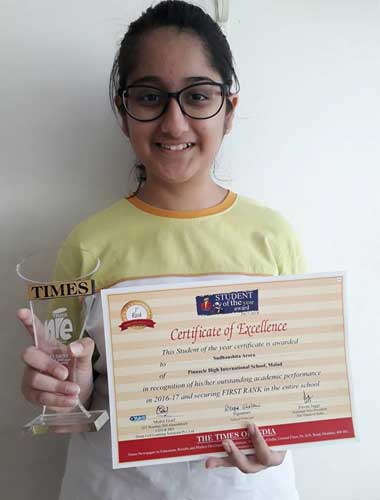 Battle Dance Sport Competition' held in Pune
Dhrumit Jain-1 Gold
Hida Rawal-2 Gold,2 Silver
Prisha Sodawala-2 Gold
Kimaya Thenge-2 Gold
Deveshi Dubey-2 Gold
Vrushank Jain-2 Gold
Vrushti Jain-2 Gold
Punji Jain- 4 Gold
Gayle Mascarenhas -3 Gold
Abeer Kumar-3 Gold
Drishti Rughani-3 Gold
Shayne Abraham-1 Silver
ICT Competition 'Ignite' held at HR college
Innovate for masses -
1st prizt-Ashesh Kaji and Aaryan Mehta
3rd prize-Divyansu Bhalotia and Yug Saraf
Life Size Game -
2nd prize-Divyansu Bhalotia and Yug Saraf
Techno Connector -
Present your start - up -
Exhibition of Painting
We are proud to announce that Rishit Nanavati, Grade KS 2 recently held exhibition of his painting at Kohinoor Continental and he also won a medal and certificate for his acrylic painting!
Skating Champs for winning at Taluka Roller Skating Championship
Mst. Varun Seth-3 Gold and1 Silver
Jared Menezes-3 Silver and 1 Bronze
Prabhuti Vira-1 Silver and 2 Bronze
Dhruvi Vira-2 Gold and 1 Silver
Darsh Salian-2 Bronz