Principal's note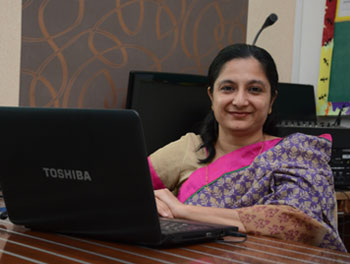 Education is not the learning of facts, but the training of the mind to think!
Albert Einstein
Dear parents,
Welcome to the Academic year 2015-2016 at Pinnacle High International School! Our commitment at PHIS is to provide a vibrant, positive, intellectual learning environment that will guide our students to become problem solvers, critical thinkers and enthusiastic learners prepared to face challenges of today's competitive world. I feel honoured to be in charge of a seat of learning that moulds young, tender, enthusiastic children into confident and responsible individuals who are ready to take on the world.
Keeping the global and national context in mind, we, at Pinnacle High, strive to create an environment where each and every student is given the attention necessary to achieve his/her individual success. We aim to give every student in our care the very best possible education in order to prepare them for life beyond school.
We firmly believe that each child is unique, thus our curriculum caters for varied interests and abilities. The school curriculum is child-centric and is guided by Bloom's Taxonomy and Howard Gardner's 'Multiple Intelligences' Theory. For us education is not a process but a journey through the road called life and we guide our students through this journey day in and day out.
Our vision of education extends far beyond the classroom. We encourage our students to involve themselves in co-curricular, extra-curricular and sports activities leading to their all round development.
We motivate our students to aim high in their studies, to work hard, to respect others' opinions and to be sensitive to the needs of others.
I warmly welcome you to visit our school by contacting us, and discover firsthand what makes education at Pinnacle High International School so special.
Looking forward to a great year ahead with my dear students, parents and staff!
Warm Wishes,
Mrs Deepa Ghelani
Principal